Oral emulsion for rainbow trout.
The following product information is only intended for Professional Keepers of animals, Veterinary surgeons, Veterinary nurses, Pharmacists and SQPs.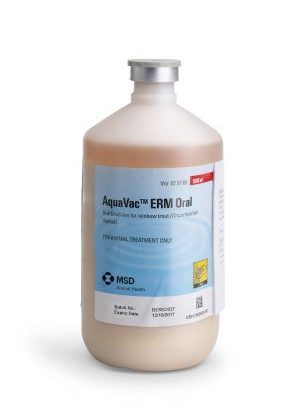 Used for: Active immunisation of rainbow trout (Onchorynchus mykiss), 26g and above against Enteric Redmouth disease (ERM) to reduce mortality caused by the Hagerman Type I (serotype 01) strain of Yersinia ruckeri. The vaccine is indicated for use in fish that have been vaccinated by immersion with AquaVac ERM within the previous 4 to 6 months.
Presentation: Inactivated bacterial vaccine in an oil emulsion containing cells of Yersinia ruckeri (Hagerman Type I strain).
Packaging quantities: 1000ml bottles.
Legal category: POM-VPS
Marketing authorisation number: Vm 01708/4571
Further information: AQUAVAC® ERM Oral is a POM-VPS product and may only be supplied on prescription from your veterinary surgeon, pharmacist or suitably qualified person.